We got to see Blueberry again yesterday. It is so wonderful to be able to lay there and see the little munchkin swimming around. Blueberry is looking much more like a baby, and way less tadpole like. Every time the ultrasound tech would try to pause the screen he would back-up just enough that we couldn't see him.
Here is a picture, it's a little fuzzy because I took a picture, of the picture with my camera phone, but I think you'll get the point.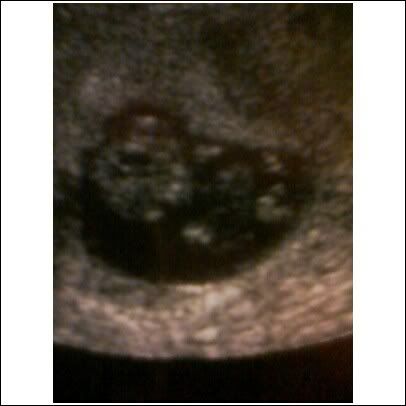 Blueberry is in the black part, head towards the upper left, kinda looking at his feet. The four white dots are hands and feet. That is an ear at the bottom of the head I believe.
Yes, I keep calling Blueberry a boy. No one can tell us what he is yet, but I'm going with boy. Which makes me very happy, but we are unsettled on a name. It was going to be Broderick Marshall, but I'm already tired of the BM comments, so we are rethinking. If Blueberry was to be a girl we'd be all set, as we have had that name picked out for at least 5 years. She'd be Cavanaugh Jenna. (Jenna is Jenn's cousin who passed away from Cystic Fibrosis--Cavanaugh, well that's a long story.)
I'm still liking Orion. But that seems a little out there. (semi pun intended) Jenn likes it, but would prefer it as a middle name. But we also both want Marshall (my lil brother) to be the middle name. I'm not going to release the current boy name to the public, until we've both slept on it a few more nights. But so far I can't think of any bodily functions that the initials will spell.